Asphalt Pavement and Drainage Solutions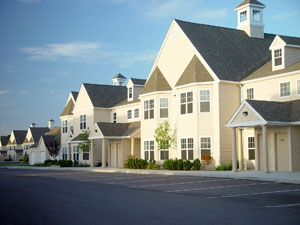 Quality 1st Contracting's infrared repair division brings 10 years of experience in repairing condominiums parking lots and walkways. Infrared repairs are superior to cut and patch methods because heat is used to bond the patch to the existing asphalt. In addition, repairs can be made without having to remove and dispose of large sections of asphalt. Typically, only a shallow top layer of oxidized asphalt need be removed.
Applications include crack repair, pothole repair, and repairs of deteriorated asphalt around drains and manhole covers. We can also enhance parking lot drainage. Our repairs look great and eliminate safety hazards. If your parking lots and roadways are in overall good shape but need some repairs, the infrared division can enhance your parking lots and roadways. Most repairs are done in 1 or 2 days!
Expert drainage solutions
Standing water and wet grounds create all too many problems for property managers. Our drainage solutions can solve all of these:
Roof and leader pipe drainage
Parking lot and roadway drainage
Catch basin repairs
Gutter cleaning
Storm water drainage
Common area drainage
Re-grading
Shrub replacement
We do all projects large and small with the least amount of disturbance to your grounds or community!
Get a Free Quote
We work in Paterson, Jersey City, Newark, Elizabeth, and nearby. Just contact us for your FREE foundation repair price quote!
Looking for a price? Get a no cost, no obligation free estimate.