PolyLevel® NJ Concrete Leveling
Quality 1st Contracting has been the go-to contractor for all things concrete across New Jersey. We've leveled millions of square feet of concrete sidewalks, curb, pool decks, aprons, and other slabs in condominiums and other housing developments.
Quality 1st Contracting has its own concrete trucks to ensure your delivery is always on time and the right amount. Your concrete delivery will never delay the completion of your project!
In addition, our concrete-leveling team can help you resolve safety hazards, such as sunken sidewalk slabs, without delay. If your concrete is in good shape but in need of leveling or stabilizing, Quality 1st Contracting has introduced the PolyLevel® System from Supportworks.
It is a state-of-the-art approach to repairing sinking concrete. PolyLevel® takes the concept of mudjacking and combines it with modern knowledge and technology. Rather than using a mixture of concrete and mud, PolyLevel® utilizes high-density polyurethane foam to raise slabs back to their original elevation.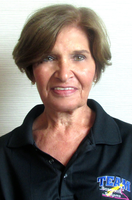 Dori Novick
Job Title: Certified PolyLEVEL Professional
Dori is an expert in all phases of concrete leveling and repair. She enjoys meeting with homeowners and developing solutions that will protect their biggest investment, their home. Her hard work and dedication have helped us achieve "Top Ten" Basement System Dealer status for the last 10 years!
At the inspection, Dori explains to each customer how they can accomplish their concrete leveling goals in and around their home or building. She guides each homeowner through the entire process from start to finish. Dori's attention to detail, customer service, and extensive product knowledge make her a tremendous asset to the team and to each customer she meets.
Dori has received extensive training which has led her to become one of the best in the industry. She has received national and in-house training ensuring that she meets the excellence standard of the Basement Systems and Foundation Supportworks networks. Dori completes weekly, quarterly, and yearly phases of training that allow her to consistently stay at the top of product knowledge, company and customer updates, and best practices for accomplishing customers' goals.
Dori has previous experience as a Facilities Manager and working for Forbes Magazine. She spends her free time gardening, reading, and spending time with her family, nieces, and dog, Layla.
How Polyurethane Injection Works
Penny-size holes are bored in the slab, and a structural grade polymer is injected into the ground below. By carefully controlling the amount and rate of the expanding polyurethane, highly accurate slab lifting and leveling are possible.
In addition to lifting the slab, the polyurethane minimizes the chance of future problems by stabilizing the supporting soil. Given its light weight, it adds little in the way of additional load. The small holes in the slab are grouted and sealed, and the slab is completely restored. Polyurethane is faster, cleaner, easier, and cheaper than mud jacking and comes with a warranty.
Looking for a price? Get a no cost, no obligation free estimate.