Structural Repairs Top to Bottom in NJ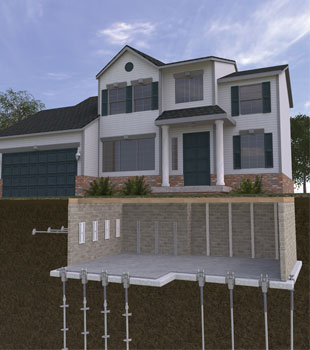 Structural repairs are critical to the well-being of housing – and often to the safety of homeowners and staff, as well. When you have problems with the key structural components in your development -- whether it's a foundation, chimney, wall, roof trusses, or columns -- call Quality 1st Contracting.
Quality 1st Contracting can repair all of your structural problems from footings to roofing. We can also replace rotted and damaged wood. Our structural specialists are on call for everything from temporary shoring to emergency structural repairs.
Immediate action can often save you and your community a tremendous amount of money. For problems that involve foundation settlement or related problems, our foundation specialist will work with your association engineer to design the most cost effective and permanent solution. We have the experience to handle difficult truss repairs, as well.
Storm Damage and Other Emergency Repairs
Quality 1st Contracting has been making emergency repairs specialist for 22 years. Our emergency staff is available to help you with sudden damage to roofs and siding, including emergency shoring or demolition as needed. In addition, call us to reduce safety hazards due to sink holes. Our technicians also know how to deal with water, with years of experience with leak detection and repair.
Basement Waterproofing and Foundation Repair
Some problems creep up slowly, including wet basements and cracked foundations, but they will eventually erode the value of the homes in your community. Our services, including waterproofing and foundation repair, can restore that value and warrant the work for many years. We're expert at the latest methods, ranging from perimeter basement drainage and pumps with fail-safe backup systems to raising sunken slabs and foundations with piers and jacks.
Get a Free Quote in New Jersey
We work in Newark, Paterson, Jersey City, Elizabeth, and nearby. Just contact us for your FREE foundation repair price quote!
Looking for a price? Get a no cost, no obligation free estimate.